You normally use pages for information that you want to share with your readers but don't expect to update frequently.
Publishing Pages Video
Watch the video below to learn how to writing a new page
Publishing a new page
Writing a new page is as easy as:
1.  Go to Pages > Add New.
2.  Now just give your page a title, add your content and click Publish.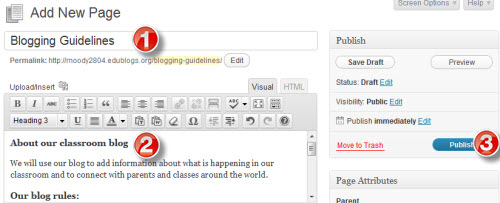 Setting up the links to your pages
Some themes automatically add a link to pages in their top navigation while on other themes you need to add a pages widget or set up a custom menu to add the page links to your top navigation.
Commonly used pages on educational blogs include:
An About page – for readers to find out more about you and your blog. Readers often use it to decide whether to bother subscribing to a blog.
Blogging Rule and Guidelines – used on Class blogs to explain how-to's, rules, guidelines for students and their families
Contact page – provides an easy way to contact you
Visual Editor Video
Watch the video below to learn about Working with your Visual editor formatting toolbar
Introduction to your Visual Editor
Your Page screen works very similar to your Post screen except that you don't assign categories or tags to pages.
Writing a page is similar to writing a post.
The area where you write your page is by default in Visual Editing mode which uses WYSIWYG (What You See Is What You Get) option for formating.
It works similar to any Word processing software.
Simply write your post, highlight any text you want to format and then click the appropriate button in the toolbar to add formating such as bold, italics, number list.
The Show/Hide Kitchen Sink button is used to view the advanced formating options including heading styles, underlining, font color, custom characters, undo, redo.