You can easily embed a Google+ post into a post and page by pasting the URL of the post on its own line.
The Google+ post will be fully embedded into your post or page and will include:
The title and text of the post.
Inline links and the date and time of the Google+ post.
A follow button for reader's to follow the Google+ post author.
You embed from Google+ as follows:
1. Click on the Share icon.
2. Click on Copy Link.
3. Copy the post URL.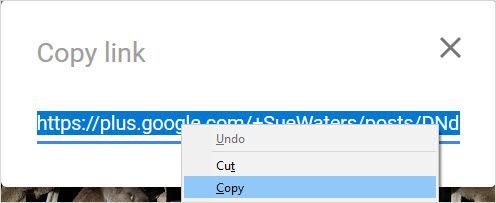 4.  Go to Posts > Add New or Pages > Add New.
5.  Paste the URL on a line by itself in your post/page editor.
Below is what it looks like embedded when you view your post:
Troubleshooting
The link must be on its own line without any characters or whitespaces before or after the URL and must not be hyperlinked otherwise it won't embed.
You can tell if a URL is hyperlinked by clicking on the link. If the hyperlink button in the toolbar highlights and a link box with the option to edit appears, like the screenshot below, it means your link is hyperlinked.
Click on Remove Link icon to remove the hyperlink.