The AddThis Social Share plugin adds Social Share button to every post and page, so readers can easily share your content on their social networks.  You can also add the Social Share widget to your blog sidebar.
Here's an example of what it looks like when activated to display at the top of posts:
With a free AddThis.com account, you can also keep track of social stats.
Configure Plugin
Once you have activated the AddThis Social Share plugin in Plugins > All, go to Settings > AddThis Share to choose the look of your social share buttons and where they are displayed.
In the basic settings select which icons you want to appear above and below the posts:
On the advanced settings page select which pages you want the icons to appear.  You would normally show AddThis on homepage and pages.
Configure Widget
Once you have activated the AddThis Social Share Plugin just drag  the new AddThis Share widget into your desired sidebar in Appearance -> Widgets and you'll see that the widget settings look like this: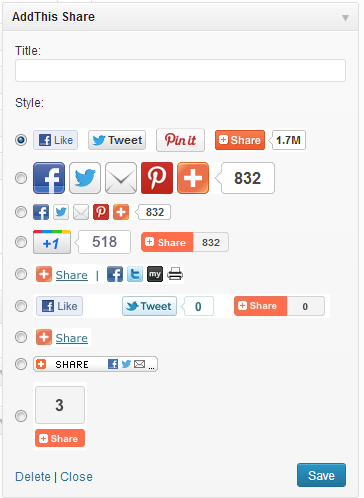 Title:   Sets the title to be shown above AddThis Share (e.g. Share my blog with your networks)
Style:  Used to select the look and appearance of social share buttons in the widget.