The email address in Settings > General is where all comment moderation emails are sent.  It is also where receipts are sent if you've signed up for Edublogs Pro using a credit card.
Comment notification emails and password reset emails are sent to the email address attached to your username and you change this email address in Users > My Profile or (Profile > My Profile).  For more information, refer to changing your username's email address.
You change your admin email address as follows:
1.  Go to Settings > General.
2.  Add your new email address
3.  Click Save Changes.
4. You will be sent an email to your new address to confirm the change.
The email address won't change until you click on the link in the confirmation email.
Spam filters, especially strict ones for institutional email addresses, may block the emails from your blog.  If you don't receive this email you need to check your spam folder and may need to use an alternative address.
5.  Log into your email account and click on the confirmation link.
You must be logged into your Edublogs account in the same web browser as your email inbox when you click on the link otherwise it won't update the email address.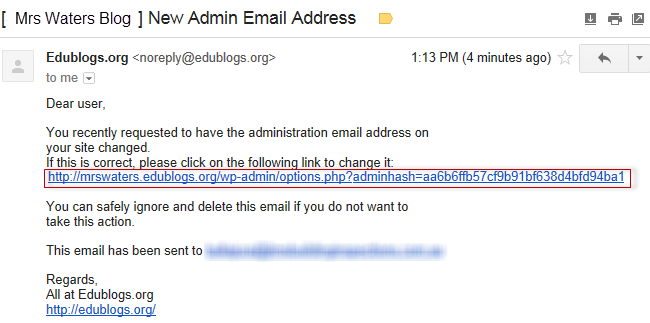 6.  When it has been successfully updated you will see the new email address in Settings > General and no longer see the Pending change of admin e-mail message.