The Category Posts in Custom menu plugin provides an easy way to list all posts from a category, tag or custom taxonomy to your custom menu.
Once you've activated the Category Posts in Custom menu plugin in Plugins > All, you'll see an option to create submenu containing links to posts with this category (or tag).
Set up custom menu
1. Go to Appearance > Menu
2.  Add a menu title and then click Create Menu.
The default menu title 'Menu 1' automatically includes a custom Home link to your homepage and any pages you've published.  You can change the title 'Menu 1' to any name you want.
Here's what a default menu structure looks like on a newly created blog:
After you've created your new menu you will notice the following two new settings appear at the bottom of the menu:
Auto add pages – if selected, new pages are automatically added to your custom menu when the page is published.
Theme locations – allows you to control where the custom menu appears in your theme.
4.  Select Primary menu if you want your new menu to display in the top navigation on your blog.
5.  Check the boxes next to the category (or tags) you want to add, click Add To Menu.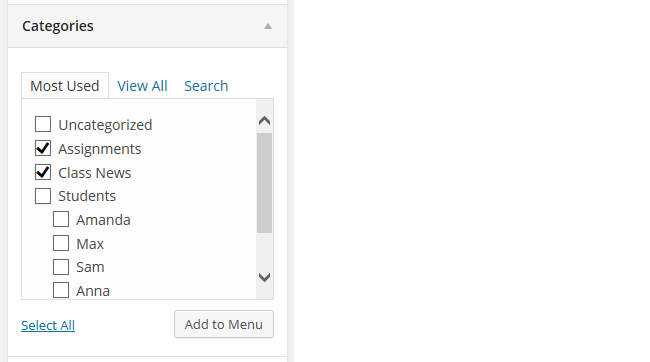 6.  Click on the down arrow to the right of the menu item to access the option to create a submenu.
7.  Select 'Create submenu containing links to posts with this category'.
8.  Once selected it adds submenu list of posts under that category (tags or custom taxonomy) in the custom menu and you'll see a range of configuration options.
You can modify the following:
Number of posts – used to increase or decrease the number of posts listed.  By default it automatically lists your latest 20 posts in the category or tag.
Skip posts – used to exclude a post(s) from the submenu.  For example, if you added 1 and it was set to list posts in descending order the latest post published won't appear in the list.
Order by – used to order posts by date, post ID, author, title, last modified, random order, number of comments, menu order. By default, posts are listed by date.
Order – used to order posts in descending or ascending order.
Remove this menu item – used to remove the menu item if no posts have been published assigned that category or tag.
Subcategory posts – used to display subcategory posts.
Post navigation – used to customize the post navigation label.  By default, the post title is displayed. The complete list of wildcards supported is listed here.
9. Drag and drop the link item when you want it to appear in the menu.
Any menu item that is indented under another item will appear as a sub-menu under that tab i.e. you create sub-menus or 'drop down' style menus by dragging the individual menu items to the right to 'nest' them under a parent item.
10.  Click Save Menu.
11.  When you view your blog you should see links to your posts under your category (or tag) menu items.
Troubleshooting
Knowing how to create custom menus is a really handy skill because there is so much you can achieve with custom menus.   However, custom menus is a slightly more advanced blogging skills.
Please contact Edublogs Support if you need help setting up your custom menu.  We are always happy to provide assistance!