There are no limits on the number of blogs you can create.
This page explains how to sign up and register for a new blog if you have an existing Edublogs username.
Please refer to sign up and register if you don't currently have an Edublogs username.
Create New Blog
You create a new blog attached to your existing username as follows:
1.  Log in to your account (if you are not already logged in).
2.  Go to Dashboard > My Sites.
3.  Click on Add New.
4.  This takes you to the set up new blog form.
5.  Enter your blog title, blog URL, choose your blog type, select 'I agree to terms of service' and 'I'm not a robot' then click Create a Blog.
Refer to these tips for choosing blog domain and blog title.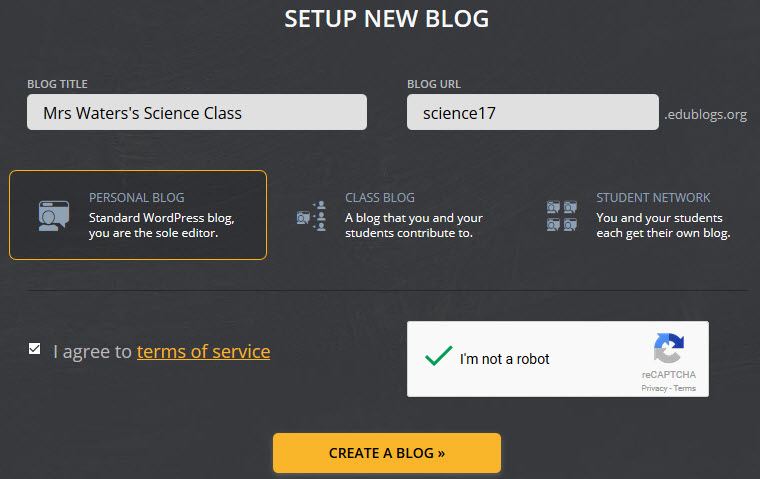 Blog URL Tips
Your Blog URL can't be changed once created.  If you want to change it you will need to create a new blog.
During the creation of your blog you'll have to select a blog URL for it (this is your blog domain).  When you want others to visit your blog you give them the URL link of your blog.   For example, the URL for the Teacher Challenge blog is http://teacherchallenge.edublogs.org/
Think carefully about your blog URL.
Once your blog has an established audience you're less likely to want to change your blog URL.   Ideally you want to keep your blog URL short, easy to remember and suitable to be reused for several years.
A simple option is to use your name in the blog URL as these educators did:
Mr. Baldock's Class blog (http://mrbaldock.edublogs.org)
Mr. Salsich's Class blog (http://jmsalsich.edublogs.org/)
Alternatively, use something unique that has meaning like:
Blog Title Tips
Your blog title is one of the first things a reader sees when visiting your blog.  Choose a name that reflects the purpose of your class blog and your students can relate to.
But don't stress too much!  You can always change your blog title any time via Settings > General in your dashboard.
Check out the following blog lists for ideas of blog titles other educators have used:
The Edublogger class blog list