The Hide YouTube Related Videos plugin is designed to hide the related videos that show up after a video is finished playing if you added the video to a post or page using the YouTube video URL.
Once you have activated Hide YouTube Related Videos plugin in Plugins > All Plugins it automatically hides related videos.
You add a YouTube video to a post as follows:
1.  Click on the Share link under the YouTube video.
2.  Copy the Video URL.
3.  Go to Posts > Add New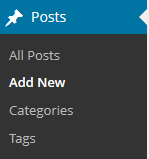 4.  Paste the URL on a line by itself in your post editor.
The URL will change to a preview of your video in your Visual Editor.
5.  When viewers watch the YouTube video they won't see related videos at the end of the video.