The email address used for your account is your unique identifier. It's used to verify ownership of sites and user accounts, for password resets and for comment moderation/notification emails.
It's important to ensure your email address is current.
Change User Email address
Each user account requires a unique email address unless your user account is using our no email option.
To change your email address you need to log into your account, go to Users > Profile (or Profile > Profile ) scroll down to the Contact Info area, add your new email address and click Update Profile.
An email will be sent to the new address asking you to click on the link to confirm the change of email address.
Your email address won't be updated until you click on this link in the email. You must be logged into your account in the same web browser that you use to open the link in.
Important tips
If the email doesn't change when you click Update Profile this indicates it might be associated with another username. If this happens log in to the username account currently associated with your desired e-mail address and change it to an alternative email address. This allows you to free up the e-mail address you want to use.

Spam filters, especially strict ones for institutional email addresses, can block the emails from your site. If you don't receive this email you need to check your spam folder and may need to use an alternative address.
Contact Edublogs support if you need help changing your email address.
Change Site Admin Email address
Your site admin email address is listed in Settings > General. All comment moderation emails are sent to the site admin address.
You change your admin email address in Settings > General by adding your new email address and click Save Changes.
You will be sent an email to your new address to confirm the change.
The email address won't change until you click on the link in the confirmation email.
You must be logged into your user account in the same web browser as your email inbox when you click on the confirmation link otherwise it won't update the email address.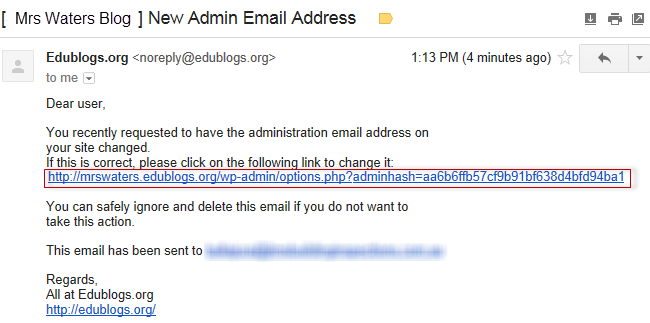 When it has been successfully updated you will see the new email address in Settings > General and no longer see the Pending change of admin e-mail message.