You can import links from other blogs or systems into your Edublogs blogroll via Tools > Import.
Import Links
You import links as follows:
1.  Go to Tools > Import
2.  Click Blogroll on the Import screen.
3.  Specific your OPML URL or upload your OPML file from your computer.
Your OPML URL is located at the following URL:
http://yourblogtitle.edublogs.org/wp-links-opml.php
http://yourblogtitle.wordpress.com/wp-links-opml.php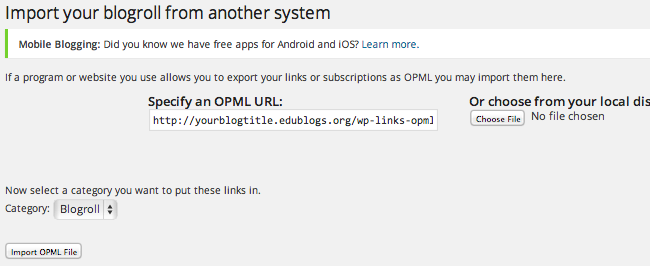 4.  Click the Import OPML File button.
Export Links
You can export your links by visiting http://yourblogtitle.edublogs.org/wp-links-opml.php and then use the Save File option in your web browser, usually by clicking File -> Save As…
(Note: The wording may vary by browser. For instance Chrome is File > Save page as…)