The text widget allows you to add text, embed code or HTML to your blog's sidebar.
You can use a text widget to display text, links, HTML or add any other widgets you find on the Internet by pasting their embed code into a text widget in your sidebar.
This is how you add widgets from Voki, Shelfari Bookshelf, Flag Counter,  Feedjit Live Traffic Feed, Google Calendar and so on to your blog's sidebar!
Here are  an examples of what widgets from other websites look like when their embed code is pasted into a text widget in a blog sidebar:
Settings
Once you add the widget to your sidebar in Appearance > Widgets, you'll see the widget settings look like this: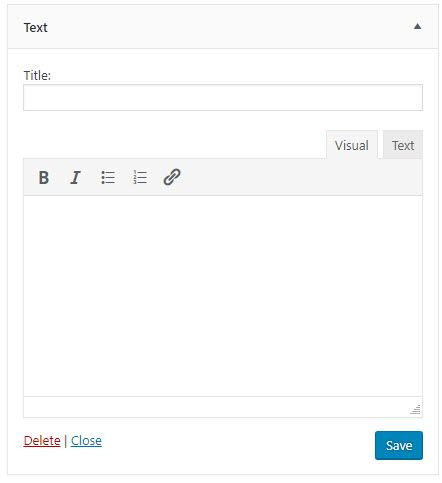 Add embed code
The most popular widgets used on class blogs are widgets from other websites that are pasted into a text widget in the sidebar using embed code. Check out this list of 40+ popular widgets.
You add a widget from another website to your sidebar as follows:
1.  Copy the embed code for the widget you want to add.
2.  Click on the Text tab in the Text widget.
3.  Paste the embed code into the text widget.
4.  Click Save and Close.
5.  You should now see the widget in your sidebar.