Your blog address, also known as your blog URL, is what people use to access your blog.  It's what they type in the address bar of their web browser to go to your blog.
help.edublogs.org is an example of a blog URL.
There are two options for changing your blog address:
Use custom domain – purchase a custom domain for your blog and redirect your blog address to your custom domain.
Create new blog with your desired blog address, and then import the contents from your original blog into the new blog.
Use Custom Domain
Using a custom domain is the easiest and best way to change your blog domain (URL) if you've published lots of content on your blog.
With a custom domain you keep the same blog address but when people go to your blog address it will be redirected to your custom domain.   For example, go to theedublogger.edublogs.org and you will be redirected to its custom domain www.theedublogger.com.
You'll find step by step instructions for using your own domain here.
Create New Blog
Create a new blog with your preferred blog address as follows:
1.  Log in to your account (if you are not already logged in).
2.  Go to Dashboard > My Sites.
3.  Click on Add New.
4.  This takes you to the set up new blog form.
5.  Enter your blog title, blog URL, choose your blog type, select 'I agree to terms of service' and 'I'm not a robot' then click Create a Blog.
Refer to these tips for choosing blog domain and blog title.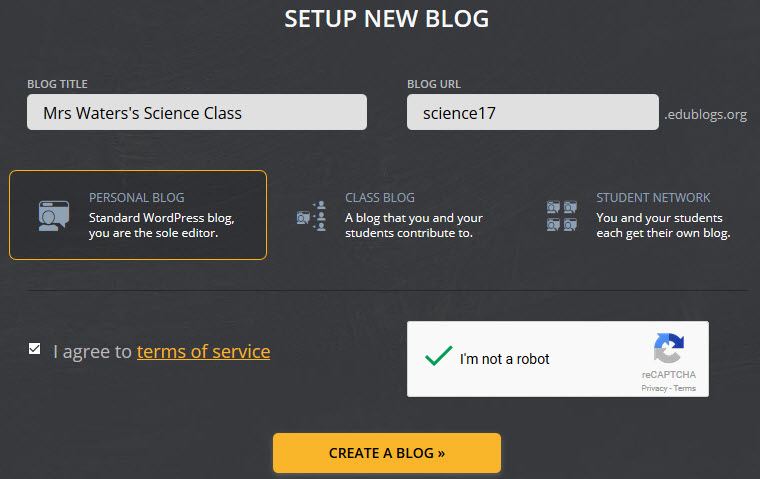 Import blog
You import your original blog content into your new blog as follows:
1.  Log into your original blog dashboard.
2.   Go to Tools > Export.
Contact Edublogs Support if you need your Edublogs Pro subscription transferred to your new blog.
3.  Click on Download Export file and save the XML (WXR) file onto your computer.
You must select All Content.
4.  Log into your new blog dashboard.
5.  Go to Users > Add New and add all users that published posts on the original blog as a user to the new blog.
Don't create new users during the import process.  Assign all posts to the blog admin user during the import process if you don't want to create their user accounts.
6.  Go to Settings > Reading
7.  Change privacy to "Discourage search engines from indexing this site" if the blog is using a private blog option.
This is necessary on both the original blog and the new blog to import media files.
8. Click on Tools > Import.
9. Click on WordPress.
10. Click on Browse and browse to locate the Export file you saved on your computer.
11. Click on Upload file and import.
12.  Assign all posts to existing users.
13.  Select 'Download and import the file attachments' and then click Submit.
This will import all pages, posts,  comments, all media files.
If you don't select 'Download and import the file attachments' it won't import your media files and will link the media files to their location on the original blog.
You need to manually set up your blog theme and widgets.
14.  A progress bar will appear will your blog is importing.
15.  Leave your browser tab open until it completes importing and you see "All Done.  Have Fun!"
This can take minutes to hours depending on the size of your original blog.
The last step of the import process is to attach the media files to the posts and pages.  If you interrupt the import process the media files will link to the location on the original blog and won't be attached to the imported files in your media library.
Restarting the import process won't attach media files that haven't attached to posts.  All posts, pages, comments and media files that were imported need to be permanently deleted if you need to restart the import process.