We store the last 100 revisions for each post on your blog.
Revisions allow you to review changes you've made and restore to an earlier version if necessary.   This is a handy if you accidentally delete post content or decide you prefer an older post version.
A revision is saved each time you click Save Draft or Update.
You use the Revision module to view your revisions.
Revisions Video
Displaying the Revision module
The Revision module is hidden by default.
You enable it as follows:
1.  Click on Screen Options in the upper right corner of your dashboard when you have a post open in edit mode.
2.  Check the checkbox next to Revisions.
3.  Once you've done this your Revisions module is displayed under your post editor.
Please note the module doesn't display until you've made some revisions.
Comparing Revisions
You compare revisions as follows:
1.  Click on a revision date in the Revisions module under your editor.
2.  Click on Compare Revisions.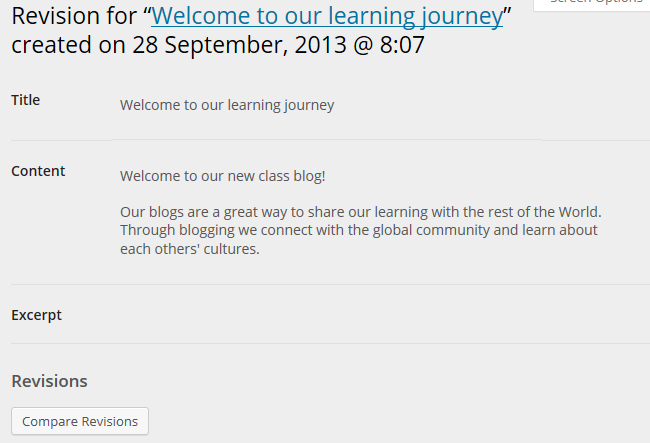 3.  This displays the two versions of your post side by side with the differences highlighted.
Restoring Revisions
All you need to do is click on Restore next to the date of a post you want to revert back to and your earlier post version is loaded into your editor.