You can display related posts at the bottom of your posts using the Related Posts module in the Jetpack by WordPress.com plugin. Your blog must have at least 10 published posts for related content to appear.
Related content is automatically generated based on the content of the posts and any tags or categories assigned to your posts.
Activate the Related Posts
Once you've activated the Jetpack plugin you activate the Related Posts module as follows:
1. Go to Jetpack > Settings
2. Click on the Traffic tab and activate 'Show related content after posts'.
Related Posts Options
You can customize how the related posts section looks as follows:
1. Go to Settings > Reading
2. Select your preferred related posts display under the Related posts section.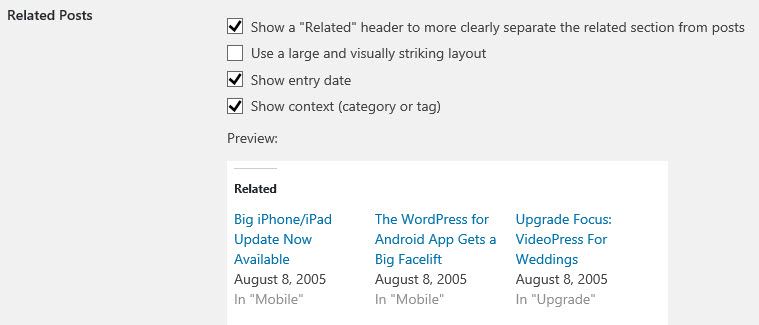 Show a "Related" header to more clearly separate the related section from posts – adds a "related" header above the related posts to better separate the section from the end of your posts.
Use a large and visually striking layout – displays an accompanying image next to the post titles. If you haven't set a featured image for the post then it will pull the first image in the body of the post as the thumbnail.
Show entry date – displays date published.
Show context (category or tag) – displays the category or tag assigned to the post.
3. Click Save Changes.
Related Post thumbnails
Thumbnails are resized and automatically cropped to be 350px wide by 200px tall to create consistent visual display. If you haven't set a featured image for the post it'll use an image from a slideshow, gallery or single image inserted into the post.