You can easily create shortlinks for sharing your posts and pages on social networks using the WP.me Shortlinks module in the Jetpack plugin.
The shortlinks use the wp.me domain to provide short, simple links so you have more characters to write when sharing links on your social networks.
Shortlinks are prefect for using on Twitter and Facebook where every character counts. Each post and page has it's own unique WP.me URL.
Set up WP.me Shortlinks
Once you've activated the Jetpack plugin you set up shortlinks as follows:
1. Go to Jetpack > Settings
2. Click on the Traffic Tab.
3. Scroll down to WP.me Shortlinks and toggle on the switch next to "Generate shortened URLs for simpler sharing".
Using Shortlinks
To find the shortlink for a post or page, if you are using the block editor, you click on the green Jetpack icon at the top right to open the Jetpack sidebar.
The shortlink URL is display under the shortlink section and you click Copy then share it on your social networks as you wish.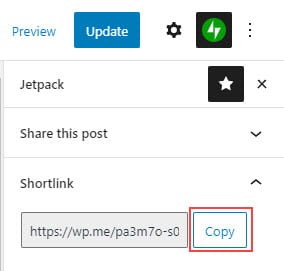 If you are using the Classic editor, the Get Shortlink button is located next to the permalink below the post/page title.