My Class is the ultimate tool for class and student blogging.   It allows you to connect student blogs to your class blog where you can control the student blog privacy, comment moderation and post moderation on all student blogs with just one click.
My Class is ideal for teachers with students who either have their own student blog or publish posts on the class blog.
My Class Menu
My Class features are accessed through the My Class menu inside your dashboard and changes from the following:
To the complete My Class menu options when you set up a class using My Class > Create a Class.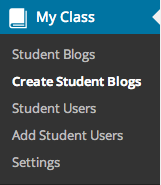 My Class Features
My Class is a management tool that teachers use to:
Quickly create student blogs.
Allow students to publish their own posts on their student blogs and/or the class blog.
Control comment moderation settings on student blogs. Either the teacher or student can be in charge of comment moderation.
Control the privacy settings on all student blogs with just one click! Blogs can be public, private, or somewhere in between (from search engines can be blocked or only logged in users can visit blogs).
Quickly view and/or moderate posts and comments in one location in the Reader.
Quickly enable extra features on student blogs such as allowing embed code*.
Configure the settings to ensure all student posts are reviewed by a teacher before the posts are published. *
Lock down student blogs for grading purposes.*
Please note:
My Class is available on free blogs.
A class blog upgraded to Edublogs Pro allows the teacher to moderate posts and automatically enables extra features on all student blogs attached to the class blog via My Class including the ability to add embed code.
My Class isn't automatically enabled on CampusPress networks and will be missing inside your dashboard if it isn't enabled.  Contact support if you would like to use My Class on your CampusPress blog.
My Class Video
The following video demonstrates how to set up My Class, add student blogs and add the class blog widget.
My Class Cheat Sheets
Short on time or just want to read a summary of how My Class works?
Check out these cheat sheets which summarize the key features and show you how to get started.
My Class Support Documentation
Here is where you'll find more information on using My Class:
| | | |
| --- | --- | --- |
| Set up My Class | Set up My Class to create and manage student blogs using My Class > Create a Class | Learn More |
| Create student blogs (teacher) | Teachers create student blogs using My Class > Create Student blogs | Learn More |
| Create student blog (student) | Students create their own student blogs using the Edublogs sign up page and then join your class blog using My Class >  Join a Class. | Learn More |
| Add existing student blog to My Class | Used by students to connect their existing student blog to My Class using My Class >  Join a Class. | Learn More |
| Set up moderation | Set up My Class to moderate posts, pages and/or comments and approve pending posts, pages and comments on student blogs. | Learn More |
| Add new users | Used to add new student users to a class blog if you want them to publish posts using Posts > Add New on the class blog using My Class > Add Student Users. | Learn More |
| Add existing users | Used to add existing student users to a class blog if you want them to publish posts using Posts > Add New on the class blog using My Class > Add Student Users. | Learn More |